Hello everyone,
Here we are. It is the last week of July. July was full of work and fun and adventures and the superb Hamilton film. Go watch it please if you haven't. Let the world turn upside down. Be in the room where it happens. Don't throw away your shot. Look around at how lucky we are to be alive right now and watch Hamilton. And no, don't change the subject. Take a break and watch Hamilton.
*Ahem* Those last 6 sentences might have been references…
This week I was not sure what I would post about, and I then had a mini panic attack that went something like this:
One head voice: "Kenedy, do you already have writer's block after only 2 ½ months of blogging?"
Another reassuring head voice: "You just aren't sure what but you will be fine."
Another head voice: "But why are you struggling to find something?"
The head voice to get me to stop panicking: "You always write down the countless ideas you have somewhere on random pieces of paper and on random docs on your laptop why don't you look for some of these?"
Exeunt all head voices
AND I am so glad I did! I completely forgot that I wanted to do a Christmas in July post.
If you know me well, I am unabashedly proud of loving cold weather and winter and snow and Christmas traditions and songs and lights and trees and food and well just about everything to do with December 25th.
One of the ways I continue to love the season is by listening to the tunes of the season at any time during the year.
Yes, I know they can be very repetitive and corny.
Yes, I know some people can get tired of these hymns and jingles.
Yes, I know they are not the most creative.
Yes, I know sometimes they are used to fuel consumerism.
Yes, I know there are haters entitled to their responses and their reasons.
They are not always wrong, but I still love Christmas music. It reminds me of lovely cold air, snow, family, joy, and the baby, who came to give us a gift we did not deserve. Since I love all these things and "Christmas in July" is such a popular term, I could not pass on doing a post.
SO without further ado, here is a list of some of my favorite Christmas songs. I have tried to add some of my more obscure favorites as well.
Hold on to your mugs of hot chocolate and dreams of snowy mornings.
God Rest Ye Merry Gentlemen
This is (right now) my favorite Christmas song. I love the Gospel centered lyrics and how joyful the promise of Jesus this song conveys. I enjoy hearing Pentatonix, the Trans-Siberian Orchestra, and Nat King Cole sing it (well only the Pentatonix and Nat King Cole sing it) There are links to these 3 versions below.
Favorite lyric: Fear not then, said the Angel / Let nothing you affright / This day is born a Savior / Of a pure Virgin bright / To free all those who trust in Him / From Satan's pow'r and might / Oh tidings of comfort and joy
Glorious by for King & Country
This sibling duo has blessed the world with this lovely original anthem to the glory of Emmanuel (God with us). Wonderful lyrics and vocals accompanied by a fusion of percussion, electronic sounds and other things.
Favorite lyric: He is the chorus to every song that we were born to sing / He is the rhythm of your heart so let the beat begin
Kay Thompson's Jingle Bells by Andy Williams
We all know this was probably one of the first Christmas songs we all learned so I get it if you are SO done with this song. But try this version out. Please!
Favorite lyric: I don't really have one. I like this more for the musical arrangement
The Night Santa Went Crazy By "Weird Al" Yankovic
You can laugh but I love "Weird Al" and all the hair, polka love, weird noises, crazy (yet creative lyrics), parodies, and outfits. Sometimes it is just fun to listen to a song that is just so silly you wonder why it is a song. This song is very silly but also a bit dark. I mean if you guys can listen to Grandma Got Run Over by a Reindeer, you can definitely listen to this.
By the way…he has a well done Hamilton melody you should consider listening to (I'll put the link down below to tempt you).
Favorite lyric: And he picked up a flamethrower and he barbecued Blitzen / And he took a big bite and said, "It tastes just like chicken!"
We all know it. We all love it. It reminds me of seeing Kevin McCallister from Home Alone run back home (this song is being sung in the church he leaves) to "deck the halls" for the burglars.
Favorite lyric: Not really sure. None of them really jump out at me.
(There's No Place Like) Home For The Holidays
This song makes me feel so warm inside literally. It makes me dream of eating food, wishing good tidings, and talking the night away with people I love.
I love the good ol' classic Perry Como version, but the Carpenters do a decent job as well!
Favorite lyric: From Atlantic to Pacific / Gee, the traffic is terrific
This is such a fun song. I love the calypso rhythm and beat. I enjoy the classic Boney M. version.
Favorite lyric: And man will live for evermore, because of Christmas Day
We Need a Little Christmas from the musical Mame
This is a song that you just love not because of the awesome quality, musicality, or lyrics but just because it reminds you of lots of happy things like Christmas decoration, family gathering, holiday food, and snow! Also "We need a little Christmas now" is kinda my year long plea.
Try the version from Mame by the great Angela Lansbury and Johnny Mathis' version below.
Favorite lyric: Haul out the holly / Put up the tree before my spirit falls again.
Can't Believe It's Christmas and Oh, Santa! from Veggietales
VeggieTales was one of the most sacred shows in my childhood. And you still will catch me watching it now. Besides all the nostalgia I feel when watching it, it actually is really creative and extremely funny at times. How do you tell the depressing story of David and Bathsheba in the Bible to kids? You tell the story of a cucumber king obsessed with rubber ducks, who wants to take the only rubber duck a small asparagus child owns despite having many ducks already. Genius.
I can remember listening to the same beat up VeggieTales Christmas CD every December as a child. These two songs were on that well loved CD, and they are from the Toy That Saved Christmas VeggieTales episode.
Favorite lyric from Can't Believe It's Christmas: Been waiting for a million hours! / Can't believe it's Christmas! / Oh, what a nifty day! / We can't believe it's Christmas! / Took 14 baths and 18 showers
Favorite lyric from Oh, Santa!: I'm from the IRS! And I've come to tax your- [Slam!!!]
How Many Kings by Downhere
This song's lyrics are beautiful and leave me in awe at Jesus' humble sacrifice for all of us.
Favorite lyric: And how many gods have poured out their hearts / To romance a world that is torn all apart? / How many fathers gave up their sons for me?
Run Rudolph Run by Chuck Berry
That electric guitar man! This song is such a classic. Plus who doesn't think of the Home Alone scene of the McCallisters running to the airport trying to catch their flight?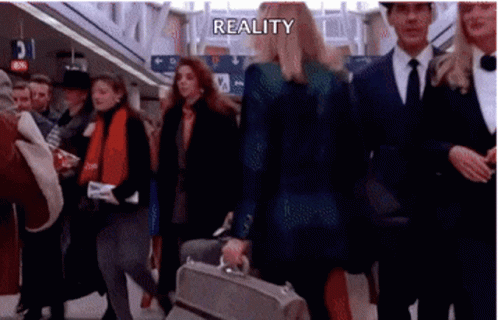 Favorite lyric: It is all about that guitar not really the lyrics. 🙂
December Song by Peter Hollens
A great original song by the singing Youtuber: Peter Hollens. He asks us why the joy of the season only lingers in December. I do find that people do seem kinder during December. Like that same family member you might have an argument with any other time of the year, you are hugging and laughing with on Christmas…
Favorite lyric: A time to be joyful / When all is calm / And all is bright / But why / Does it change with seasons? / And why can't we just hold on?
I bet you are saying, "If I have to hear Celine Dion belt this song one more time!"
The reason I have it on the list is really because of one of the later verses that is so powerful.
I will give you Josh Groban version instead (sorry Celine).
Favorite lyric: Truly He taught us to love one another; / His law is Love and His gospel is Peace; / Chains shall he break, for the slave is our brother, / And in his name all oppression shall cease, / Sweet hymns of joy in grateful Chorus raise we; / Let all within us praise his Holy name!
This is actually more of an advent song than a Christmas song. It breathes the promise of the waited Messiah.
Below are the versions by for King & Country and one of my favorite singers, Josh Garrels.
Favorite lyric: O come, Thou Rod of Jesse, free / Thine own from Satan's tyranny; / From depths of hell Thy people save, / And give them victory o'er the grave
Well, here's to always cherishing the joy of Christmas whether it is 20 degrees or 90.
What are some of your favorite Christmas songs? Are you opposed to listening to Christmas music in the other months of the year?
I hope you all have a great Christmas five months from now!
~ Kenedy M.